The ASVD objective is to Study, design and develop certain technologies designed to minimize the entry  threshold to the market for online video advertising campaigns for small Advertiser (long tail Advertiser). This is achieved through:
study, design and development of a system that enables the Advertiser to manage advertising video campaigns by itself online , build in terms of time, budget, geographical location, thematic channels, content, target, etc.;
study, design and development of an unsupervised system that, using a recommendation engine, enabling cirqu.it to associate the best advertising with a video content that a end user chose. All in compliance with the conditions set by all the advertising campaigns Advertiser;
study, design and development of a system that enables to generate the composition of content and advertising in a standard format; this representation can include multimedia objects, animations and elements of interactivity, such as graphic or textual;
study, design and implementation of architecture for the integration of these technological components within cirqu.it;
execution of field tests assigned to a focus group to test the results of the project.
Within the ASVD project CEDEO.net has developed the end-to-end system depicted below. This organised as a client-server architecture, every component of which has been developed based on the ISO/IEC 23006-2 MPEG eXtensible Middleware (MXM) API standard.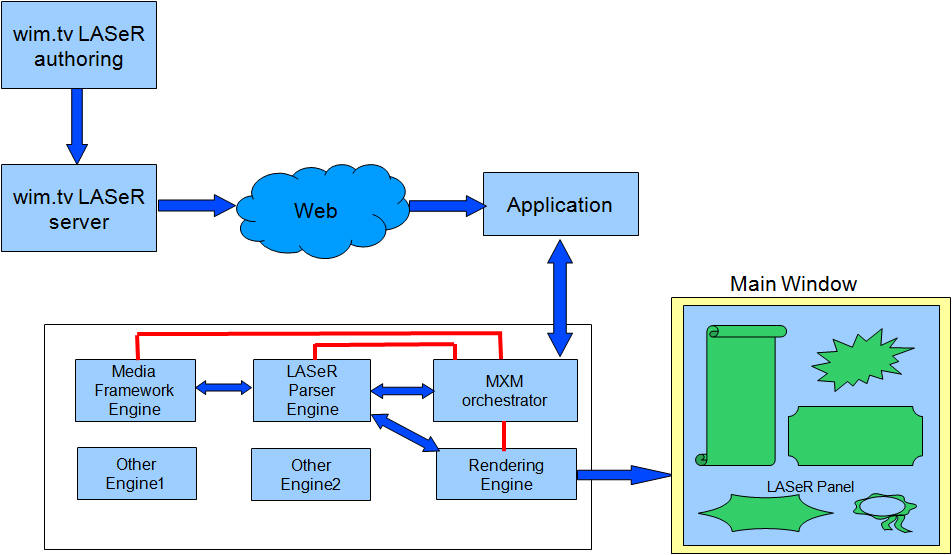 The ASVD subsystem handles resources represented by means of the ISO/IEC 14496-20 Lightweight Application Scene Representation (LASeR) standard throughout its life cycle: template-based authoring, storage, search, streaming and consumption.